Redeem your cash back rewards
Apply cash back rewards towards purchases you've already made
Instantly apply your cash back rewards1 towards any eligible purchase you've made in the past 30 days using the Mastercard® Pay with Rewards™ app on your smartphone. That means you no longer need to log into your Rogers Bank online account and turn on the Pay with Rewards option before redeeming your cash back rewards.
Redeeming on the app is easy
To redeem, go to 'Settings'. Tap Pay with Rewards 'Off'. Then tap 'Transactions' to view a list of recent transactions.
Eligible purchases will be in 'Yellow'. Select the one you want to redeem and tap 'Redeem'. Tap 'X' to close the message if you do not want to continue with the redeeming option.
When you complete your redemption the purchase will be in 'Green'.
Step-by-step video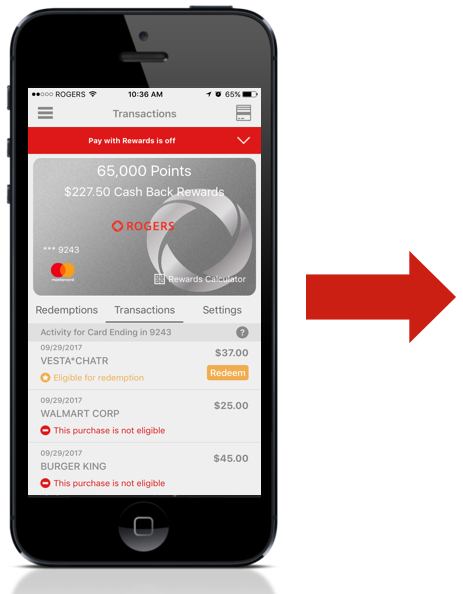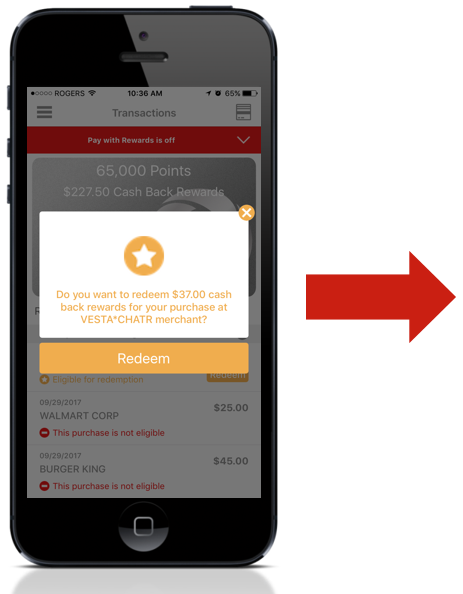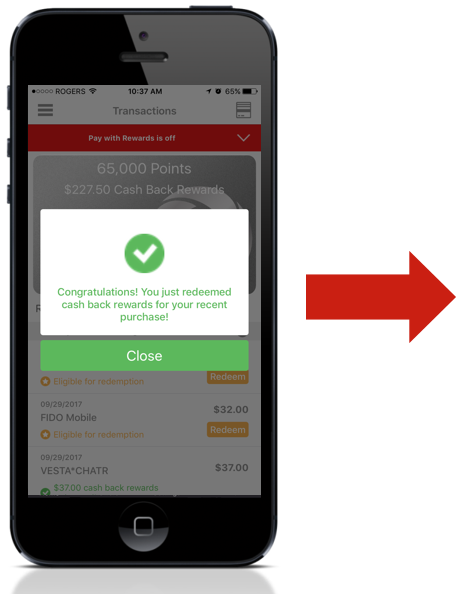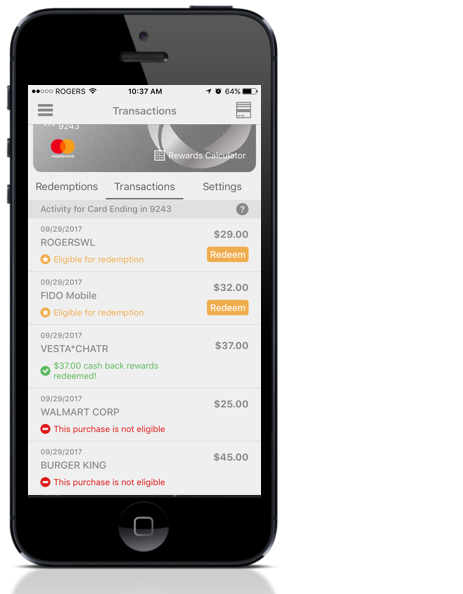 Purchases in yellow are eligible for redemption
Purchases in green have already been redeemed
Purchases in red are ineligible for redemption
Download the app and start redeeming
Download the Mastercard Pay with Rewards app today to see your Mastercard transactions in real time and select the eligible purchases you want to redeem your rewards toward.
Search for Pay with Rewards in the App Store or Google Play.
If you already have the app on your smartphone, it should automatically be updated. If you have trouble accessing the new 'Transactions' tab, visit the App Store or Google Play to download the latest version.
Redeeming online
You can also manage your rewards in your online account:
Sign in here.
On the 'My Account' page, click the next arrow icon within the 'View and redeem cash back rewards' box.
Select 'Pay with Rewards' on the left of the page.
Enter in a value that is greater than $20 within the 'My Preferred Minimum Cash Amount' field (optional).
Select 'Enable Only for Next Transaction' or 'Enable for All Transactions' button. When selected, your option will be greyed out.
Click 'Apply'.
Note, manual redemptions (post purchase) can only be done from the Pay with Rewards mobile app.
Minimum purchase and redemption amount of $20. Cash back rewards apply up to lesser of purchase amount or rewards balance. Some exceptions apply, including cash advances and cash equivalents. Rewards are not refundable. Account must be in good standing. See Reward Program Terms and Conditions, rogersbank.com/legal.
®/™ Mastercard and World Elite are registered trademarks and the circles design is a trademark of Mastercard International Incorporated.
™ Rogers Bank and related logos and brand names are trademarks of Rogers Communications Inc. or affiliates under license.